More Website Templates @ TemplateMonster.com - July 28, 2014!
Welcome to Chella Tours!
Your Tour Guide For South India
Welcome to the our new site of Chella Tours, your tour guide for South-India. You can find a lot of information on this site about Chella Tours and about me, but also about my beautiful country: India... Visitors to South India are charmed, inspired and bemused by its diverse sights; it is a holiday destination unlike any other in the World. The South Indian subcontinent is perhaps the only destination in the World where in a three week holiday, you can do a Beauty full Temple visit, do a wildlife safari in a National Park, spend a night lazily cruising the backwaters, ride a Jeep in the forest and still have time to relax on a beach !!! South India has all this and much more also …
About Us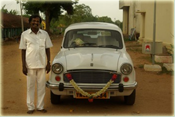 My name is P.Chelladurai and I live in the neighborhood of the south-indian, city of Madurai.
. I was born in 1958 and I made my living as a taxi driver for more than thirty years.
In May 2008, I started my own business CHELLA TOURS your tour guide for south India.
Contact Info
Ashok kumar Chelladurai(Chella Tours)
1/1 Iraniyam, Sundarajan Patti
Arumbanoor Post, Madurai- 625104,
Tamil Nadu, South India
0091 97902 99801, 0091 99524 91996,
chellatours@yahoo.com